WELLNESS CENTER
NEW! FREE! Join our Blood Pressure Screening Program Today!
Click the link below for more information!
Blood Pressure Screening Program
The Y makes it easy to workout and remain safe!
Wellness Center (Gym)
Locker rooms are now open!
Upon entering the building, members must scan in using the card that contains your barcode. If you forget to bring your card, please let us know at the front desk.
After each use, please clean the machine/area with our spray bottles and towels.
If there is an issue with a machine or any other equipment, inform us as soon as possible.

WHEREVER YOU START FROM, WE'RE HERE FOR YOU!
When you join our Y, you join a community organization that offers health, hope and opportunity: Parents find a safe, nurturing environment for their children to stay active, be engaged and learn positive values. Families come together to have fun and spend quality time with each other...
At every age and every level of activity, you'll find people just like you looking to live a healthier lifestyle. Members and program participants often cite the support and enthusiasm of fellow participants and staff as some of the key factors in their achievement of greater well-being. You may be a highly trained athlete, or just someone looking to live a healthier life.
If you'd like full access to the Wellness Center, click here to see which membership works best for you!
Remember that all group exercise classes are included in your membership:
Drop in to check out different classes to find what you like.
There's no pre-registration required for any of our free Group Exercise classes and you're welcome at any time.
Our state of the art wellness and fitness center includes over 3000 square feet of space featuring plenty of strength and cardio equipment for all adult age groups. Personal trainers can also provide the direction and encouragement needed to get you started!

The Benefits of Exercising
Exercising has several benefits for both your physical and mental health. Take advantage of the equipment and resources that the Y provides to lead a healthier lifestyle and achieve your wellness goals. Benefits of exercising include: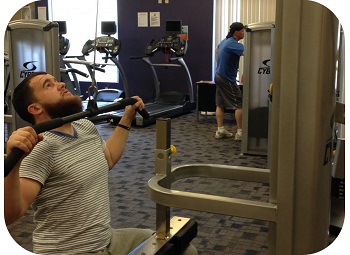 Building and maintaining strong muscles and bones
Boosting your overall energy levels
Reducing your risk of chronic diseases
Improving brain function and memory
Improving heart health
Burning calories and aiding in weight loss
Make working out exciting and fun. Join the YMCA community, your mind and body will thank you later!
NATIONAL YMCA RECIPROCITY
As part of national YMCA reciprocal membership, Full Facility members of our YMCA may use YMCAs throughout the country when on the go. When visiting other YMCAs, call ahead to make sure the YMCA is participating in national reciprocity. (Note: you must use your home YMCA more often than any other Y, otherwise you must change your membership to the YMCA you use most often.)
HEALTH INSURANCE COVERAGE
Medicare-eligible members and group retirees may have their memberships covered by the SilverSneakers program! Other insurance plans may also be accepted. Check with your health insurance company to see what type of reimbursement that you may be eligible for.