GROUP EXERCISE CLASSES
WHAT ARE THE BENEFITS OF GROUP EXERCISE?
Group exercise classes are offered in a variety of program areas. Group exercise combines the intensity of a workout in a supportive and fun enviroment. Whether low or high intensity, group exercise is a non-intimidating way to have fun, meet new people and get in shape. Group exercise allows for increased motivation through peers and the instructor, encouragement throughout the class, and tons of support along the way. Check out all the group exercise options the Y has to offer below. The Y offers something for every level and for every personality. So, get out there and have a great time getting healthy.
WHO CAN PARTICIPATE IN GROUP EXERCISE CLASSES?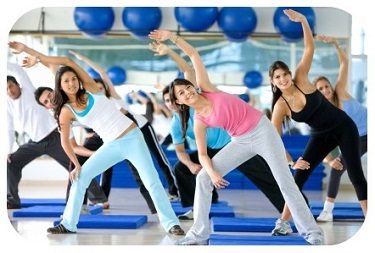 Group exercise classes are for all levels from beginner to expert. Full Family Members, Adult & Teen Wellness Members, and SilverSneakers may attend any and all classes as part of their membership at no extra charge. Visitors may attend any group exercise class for $10.00 per visit.
WHO ARE THE INSTRUCTORS?
YMCA instructors are selectively chosen to connect with their classes and build a sense of community at the YMCA. All instructors are certified in their respective diciplines through nationally recognized certifying organizations. All are required to maintain current certification, first aid, CPR, and attend on going continuing education to stay current. Finding great instructors is a priority at the Y and we are always on the lookout for new personalities to improve the quality and variety of the group exercise experience.
WHAT ARE MY CHOICES?
The YMCA offers a variety of of group exercise classes to appeal to a broad range of health seekers and fitness enthusiasts. We have something for everyone: Yoga, Spin, Zumba, and much more. Check out the schedule below for all options!
RARITAN VALLEY Y... THE APP! IT'S HERE!
Go to the Apple App store or Google Play on your mobile device and search for "Raritan Valley YMCA" (use quotation marks). Download the app and allow push notifications. You'll be able to instantly view our group exercise schedule, but you'll also get instant updates about important information: class cancelations, emergency closings, special YMCA events, and more.