FITNESS CENTER
Temporary Changes for Our Re-opening
We're so glad to be able to welcome everyone back into our facility!
The Y will be open weekdays from 7:00am until 7:00pm, and on Saturdays from 9:00am to 1:00pm.

For our main Wellness Center, entry will be capped at 25% capacity (first-come-first-served).

Our two private workout rooms (Free Weight Area and Spin Room) require reservations, which can be made here, for one person, or one family unit, at a time.
Group fitness classes are now available without reservations! Masks, waivers, and temperature checks will still be required to attend class.
Wellness Center (Gym)
Come to the Y dressed and prepared as locker rooms are closed at this time. Masks must be worn at all times, including while working out. All members must wash or sanitize their hands upon entering and exiting the facility. All members will undergo temperature checks and must sign waivers before gaining entrance into the facility.
ALL MEMBERSHIP INFO BELOW APPLIES TO NORMAL OPERATING PROCEDURES. PLEASE SEE OUR SPECIAL RE-OPENING PROCEDURES ABOVE FOR OUR CURRENT POLICIES.
WHEREVER YOU START FROM, WE'RE HERE FOR YOU!
At the Y, a supportive community is a big part of wellness. At every age and every level of activity, you'll find people just like you looking to live a little bit healthier. Members and program participants often cite the support and enthusiasm of fellow participants and staff as some of the key factors in their achievement of greater well-being. You may be a highly trained athlete, or just someone looking to live a healthier life. Maybe you have doubts about your fitness knowledge. It doesn't matter to us. We're here for you, and we'll help you move forward!
If you'd like full access to the Wellness Center, check out our Wellness Memberships on the membership page. (Note that "Program Memberships" are used for participation in other programs, and do not usually include fitness center access.) Remember that all group exercise classes are included with your Wellness Membership at no extra charge!
Our state of the art wellness and fitness center includes over 3000 square feet of space featuring strength and cardio equipment for all adult age groups. Staff supervisors can provide the direction and encouragement needed to get you fit! (Don't forget to ask about personal training sessions.)
Work out on 15 stations of CYBEX weight machines, treadmills (with personal televisions), elliptical trainers, recumbent and upright bicycles & rowers. Free weight selection includes dumbbells, barbells, and exercise balls, stretch bands.
NJ YMCAS AND LOCAL YMCA RECIPROCITY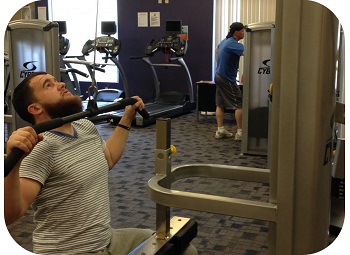 NOTE: reciprocity temporarily unavailable during re-opening.
As part of the NJ YMCA Alliance members of our YMCA may use nearly any YMCA statewide when on the go. And, as part of a reciprocity agreement between the Raritan Valley YMCA, the Metuchen-Edison YMCA, the South Amboy Branch YMCA, the Old Bridge YMCA and the Raritan Bay YMCA (Perth Amboy), our members may use these other facilities at any time for free (including swimming pool access)! When visiting these YMCAs, call ahead to make sure the host Y can verify your membership beforehand. (Note: you must use your home YMCA more often than any other Y.)
HEALTH INSURANCE COVERAGE
Medicare-eligible members and group retirees may have their memberships covered by the SilverSneakers program! Other insurance plans may also be accepted. Check with your health insurance company to see what type of reimbursement that you may be eligible for.
CHILD WATCH
NOTE: child watch temporarily unavailable during re-opening.
Child Watch is a service of our fitness department available to Wellness Center members. Please see our Child Watch page for more detail. For those with greater child care needs, ask about combining your Wellness Membership with our child care and youth programs!